Most businesses and consumers are familiar with B2C marketing, a direct marketing strategy that targets the customer. However, many businesses fail to recognize the advantages of investing in a B2B content strategy or marketing directly to other businesses.
B2B is a volume marketing strategy. Imagine you are a tool manufacturer. While your B2C website may allow consumers to buy a handful of tools, your B2B marketing efforts may result in a major retailer buying a bulk order of thousands of tools. By pushing B2B along with the standard B2C marketing, your business is allowing for volume sales thus improving your bottom line.
If you are looking to market to wholesale buyers and other companies, you need to have a viable B2B content strategy. Research has found that 82% of B2B marketers report using content marketing; however, there is a significant difference between B2B and B2C content marketing.
With B2C marketing, you're appealing to a broad consumer audience; alternatively, with B2B marketing, you're appealing to a select group of decision-makers in a company. Knowing this difference and strategically planning a smart B2B approach can make a huge difference in your sales results.
Do Your Homework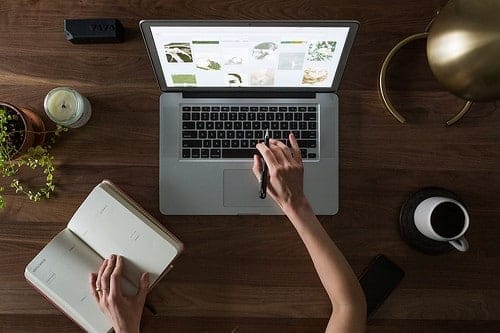 To develop an effective B2B content strategy, you first need a firm understanding of your business goals and the desired outcomes of your B2B content.
There are four main reasons a company would want to promote B2B marketing:
• Increase customer base and improve the generation of sales leads
• Make money and increase profit margin
• Simplify marketing strategy and lower overall costs
• Improve customer retention and brand loyalty
According to HubSpot, a business that regularly updates its marketing blog attracts 55% more website hits and 43% higher indexed pages, while also generating a 14.3% conversion rate on organic searches. Every business needs an effective B2B content strategy, in addition to a solid B2C marketing approach, in order to meet its goals.
Second, you need an understanding of your audience, preferably through a buyer persona. With tools such as Google Analytics, Google Search Console, and Google Keyword Tool, you can obtain detailed information about who is visiting your website. You can also view what they are doing while on the site, and what information they are specifically looking for. This enables you to understand what buyers are interested in and what they might have questions about.
Creating a buyer persona is essentially putting together a psychological profile of each buyer. Knowing key demographic and activity information of your clients allows you to tailor your marketing approach to better reach each of them. Utilize online tools such as HubSpot's Make My Persona, Content Harmony's Bootstrapped Customer Persona Template, or Fake Crow's Xtensio software to efficiently craft a buyer persona.
Create Effective, Story-Driven Content
B2B content needs to be valuable and relevant to the buyer. When you are preparing your B2B content, make sure it's appealing and palatable. Include creative items such as cornerstone content to establish your reputation as an expert in your specific area. You should also publish guest blogs to help improve your search engine rankings. Also include white papers, which can spell out specific items such as costs and features your audience may not be familiar with.
An effective B2B content strategy will maintain communication with companies who have recently made a purchase, re-target visitors who viewed your products but didn't complete transactions, and reach out to new potential clients. You can bring people back to your website through an effective email marketing campaign or a prominently displayed special offer.
Additionally, always include a "call to action" in any online copy. Most businesses think B2B needs to be more technical than a B2C approach. However, you're appealing to a select group of decision-makers who may be tired of reading "professional" content. This means that you can get creative. Be funny. Share relevant stories and anecdotes. If you speak to the individual instead of just the business, you'll be able to unlock a major secret to effective B2B marketing.
A Flexible Distribution Strategy is Also Important
It's not just about creating content. It's also about finding innovative ways to effectively distribute that content. Your B2B content strategy should include several avenues for distribution.
If you're about to launch a new product or a special event, networks such as Google AdWords and Yahoo Search Marketing can help get your information out. This is especially effective if your search engine traffic is strong. Another option is implementing a social media strategy that includes platforms specific to your customers. This may cost more, but can be creative and more tailored to your target audience.
Organic distribution is also an effective way of creating product and company awareness using social media or email marketing. Additionally, crowdsourcing is a way to improve brand loyalty while encouraging your customer base to broaden.
What is the most effective B2B content distribution strategy? In a recent survey of B2B marketers, 53% reported that email generates the most sales leads. Branded and customized emails, sent to targeted email lists of current and potential customers, can produce a positive ROI for your company.
IronPlane Can Help
One of the biggest differences between companies that report effective B2B marketing and those that don't is that 88% of the top-performing companies regularly check on the progress of their campaign. With many content marketing analytic programs such as HubSpot Marketing, Salesforce Einstein, LinkedIn Website Demographics, and ThriveHive available, it would be imprudent to run a campaign and not study it regularly to make adjustments.
At IronPlane, we understand the nuances of B2B marketing and how to tie them into your Magento eCommerce platform. If you are interested in designing your first B2B campaign and leveraging some of the built-in tools Magento has to offer, contact us to review.